Strategy and AI Technology in the 21st Century
Artificial intelligence is the next step on the road to digitalization, opening up entirely new, previously undreamed-of possibilities.

Preparing Companies for the Future With a Digital and AI Strategy
Together, we can transform your existing business, expand the range of services and establish completely new business models. All this with lean digital concepts that also use artificial intelligence where it makes sense.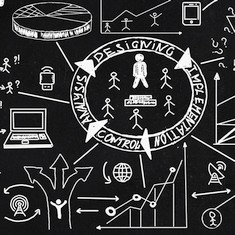 Analysis of the Potential for Digitization and AI
Can existing products and services be taken to a new level digitally and with AI? Are entirely new business areas conceivable? What technical, organizational, and human hurdles must be overcome? What does the competition look like? And what will it all cost? These questions need to be answered before major investments are made.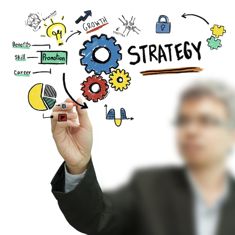 Strategy Development
Digitalization and the use of AI do not bring market advantages by itself. Only when the needs of customers are precisely met, products and services are competitive, and new technical possibilities are used optimally and cost-effectively, the company will win. This requires dedicated design of the business model and the technical basis in close cooperation with the entire management.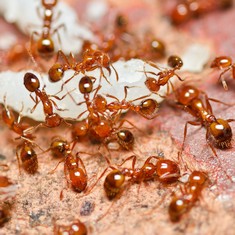 Managing the Implementation
The most strenuous part. Products and services need to be developed (further), addressing new and existing customer segments requires new value propositions, and the company must internally develop organization and processes in such a way that the promise is kept and profit is generated. A lot to do. Let's tackle it together.
Preparing People and Organization
Artificial Intelligence brings many benefits to the business world. On the other hand, we can expect a tremendous increase in competition, especially for companies that adapt only late.

To unfold the full power of AI and

to avoid risks

, employees must be trained to achieve a level of professionality in using AI.
A stroke of luck in my career
I was lucky that my career did not just follow a straight line. Doctoral and teaching work dealing with artificial intelligence applied to management systems, the founding of four companies with platform and data analytics concepts, advanced training in artificial intelligence (including at MIT) plus years of consulting work where this expertise was translated into corporate strategy and organization create the foundation of my work.

Although I have written several thousand lines of code and developed AI applications in my life, I like to leave that to software engineers who can do it better, safer and faster. My strength lies in developing and validating digital strategies and business models, translating them into a digital architecture, overseeing the overall concept, and holding the threads together in projects. Fortunately, my coding experience is enough to not only understand the work of developers, but also to be taken seriously by them.
Ways of cooperation
Interim management (CDO / head of digitalization)
Many companies just need a boost to be able to steer their way into the AI future under their own steam. Interim work is the ideal way to achieve this. It is limited in time, focused on results and yet closer to the company than any consulting.
AI Training for Management and Employees
A modular workshop concept is available to prepare the organization to properly utilize the benefits and avoid the risks associated with the technology.
Project Management
In many cases, it is also just a single project that needs to be brought to success. I am happy to support that as well.
Coaching
Sometimes reflection and support of the people who are responsible for digitalization in the company is enough. I also offer opportunities for this.
More information is available here